You are here
European Defence and Security Network

European Defence and Security Network / European Parliament
Foreing & Security Policy analyses for the European Parliament. EuVI is member with the HIIA, Fondation pour la Recherche Startégique (FRS, Paris), Stockholm International Peace Research Institute (SIPRI), Chatham House, Barcelona Centre for International Affairs (CIDOB), Hellenic Foundation for European and Foreign Policy (ELIAMEP), Group for Research and Information on Peace and Security (GRIP, Belgium), Mediterranean Academy of Diplomatic Studies (MEDAC).
Project timeline : September 2014 - August 2018.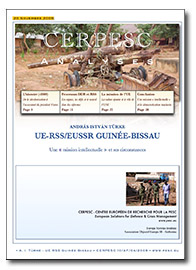 Our contribution to the SSR Research :
UE RSS/EUSSR Guinée Bissau - Une "mission intellectuelle" et ses circonstances
par András István Türke
CERPESC 10/AF/04/2009 - 20 novembre 2009 (version améliorée)

Après plusieurs missions et opérations plus ou moins réussies en Afrique, notamment en RDC et au Soudan, l'Union européenne a lancé une mission de la réforme du secteur de sécurité (RSS/SSR) en Guinée-Bissau, Etat qui se trouve « en état permanent » de la réforme du secteur de sécurité. Pourquoi la décision de l'UE a été prise en 2007 ? Quel est le rôle du facteur de temps ? Cette analyse cherche à répondre à des questions de bases pourquoi cette mission a été installée, quels sont les Etats membres de l'Union européenne qui étaient partucilièrement intéressées ? Pourquoi une mission civile (soi disant « intellectuelle ») de plus de l'UE si les missions de l'ONU sont déjà longtemps sur place. Quel était le rôle de l'ECOMOG et de la CEDEAO concernant la politique guinée-bissauénne ?